Podcast: Play in new window | Download (Duration: 1:04:48 — 59.8MB) | Embed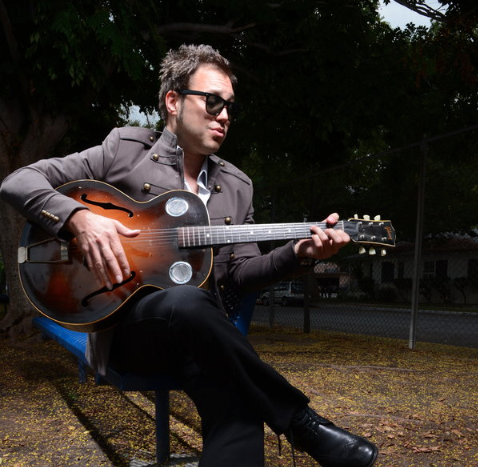 Michael "Nomad" Ripoll truly is a drifter who has made his presence known in countless cities around the world. However, he does not wander about without direction or purpose.
With his skills as a session guitarist, composer for TV and film, solo artist, and music director for Kenny "Babyface" Edmonds, his journey has led him around the world to touch the hearts of many with his guitars and various stringed instruments and the sound of his voice.
Some of his film work includes Men in Black 3, Kung Fu Panda, The Departed, Terminator 3, Into the Blue, and What Women Want.
His television score compositions include American Idol, The Today Show, Desperate Housewives, ABC World News, and So You Think You Can Dance, among many others.
The talented artists he has worked with include Celine Dion, Stevie Wonder, Sting, Carrie Underwood, Michael McDonald, Trisha Yearwood, Michael W. Smith, Justin Bieber, tobyMac, Kirk Whalum, CeCe Winans, Vanessa Williams, and many, many more.
Nomad has graciously taken the time to share of his wisdom and experience in the music industry and I'm stoked to have him as the guest on today's show!
Subscribe via iTunes or Stitcher.
IN THIS EPISODE, YOU'LL HEAR NOMAD SHARE ABOUT
The ins and outs of endorsements.
Having a long-term mindset.
The story behind the nickname "Nomad."
The dangers of "entitlement."
Ear musicians vs. musicians that read.
How to stand out from the crowd and GET MORE GIGS!
Also, Nomad gives the first live CML performance with his song "Perfect World."
And more…
RESOURCES AND LINKS MENTIONED IN THIS EPISODE:
Links:
Check out Nomad's EP "Sky" HERE!!!
Gear:
Lessons:
Connect:
Nomad is going to perform live at The Bitter End in New York City Thursday Feb 6, 2014 at 8:30PM. If you won't be in NY, check out the streaming option on their website.
LIKED THIS EPISODE? HELP ME GET THE WORD OUT!
If you enjoyed this episode and have 10 seconds, please share it on Twitter by clicking on the link below. It'll automatically let me know you liked it!
GET YOUR VOICE HEARD!
Let me know what and who you'd like to hear on the show. It seriously takes less than 1 minute on my Speakpipe page.
WANT TO HELP?
It means a lot that you've taken time to listen to the podcast and read this far. I want to make this podcast the best it can be. If you would give an honest review on iTunes I sure would appreciate it. You can also email me with suggestions for the show. Thanks so much for listening!
Subscribe on iTunes and Stitcher.
What do feel about the points Nomad made? Comment below.