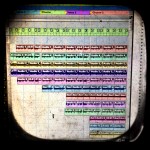 I went over by 39 seconds today, but, that's ok. I'll cut myself some slack there.
My aim today was to write in 6/8 (thanks, Uncle Joe)!
All was done on my Taylor 414CE acoustic with no plug-ins or effects except for my PreSonus preamp and one track of percussion on which I used the "West Africa" plug-in for Kontact 5.
60 minutes and 39 seconds. 14 tracks.
New to my Music Challenge? Here are the rules.