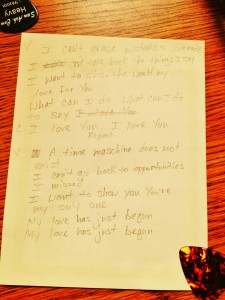 Today came easier than I expected. I didn't have to try very hard for this one. I'm thankful for that after yesterday!
After I wrote the music, words started to come to me. By the way, please pardon my vocal! I was going for a Sting-Style performance that wound up not turning out so hot. I didn't' have the time to re-record it, so here it is! Don't you feel privileged?
On another note, I'm very thankful for my beautiful wife. This song is for her. ;0)
60 minutes. 12 tracks.
New to my Music Challenge? Here are the rules.