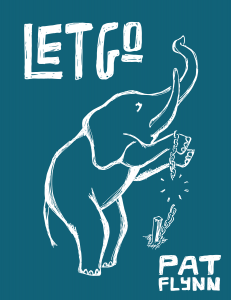 You can make it. You can break through the cage that is keeping you from being who you want to be and doing what you want to do.
You can silence the voices in your head that are telling you "You're not qualified. Who will listen to you? You can't break through. You'll never make it."
That's what Pat and his story mean to me.
Pat makes mistakes and experiences self-doubt, as well as other obstacles, but he continues anyway. He doesn't give up.
Over the last year, I've learned a lot from Pat about business, the internets, and life by listening to his podcast.
I believe success is more than music, so, though Pat isn't in the music field, I take various nuggets from him and apply them to my life.
Things like marketing, running a blog/website, being productive, and coming up with creative ways to make income are tremendously helpful and can definitely be applied to the music industry.
Because of Pat, I'm starting a podcast. I'm purposefully getting uncomfortable and exploring new territory. I'm "letting go" of my self-doubt, and moving on to the big things I've been afraid of.
In Pat's story, we see that even "bad" events can turn out for our good if we don't give up.
You can purchase Pat Flynn's book "Let Go" here.
Let us not become weary in doing good, for at the proper time we will reap a harvest if we do not give up.
– Galatians 6:9
What are some things you need to "let go" of?