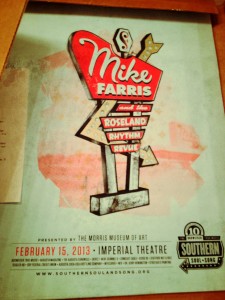 Recently, I had the pleasure of playing with Mike Farris of Screamin Cheetah Wheelies fame. Mike has a powerful, soulful voice that wonderfully compliments his style of old spirituals intertwined with Texas Blues. But, what was most inspirational for me was not just his music (which was a blast to play), but his positive attitude during the struggles we faced over that weekend.
Our bus gave us continual trouble until it finally got so bad that we had to cancel the 3rd and final gig of the 3 days we were out. But, Mike continued to smile, and be an encourager. I want to be around people like that.
It's good to see a Christian artist that is real and keeps a positive mindset even when things get tough. Mike's been through a lot in life and has a great testimony of God's saving Grace.
Check out Mike Farris at mikefarrismusic.com. You can also check out his Dove Award winning album here.